Equipment
The institute is equipped with state-of-the-art equipment that allows it to perform cutting edge research in the field of molecular and cellular biology. The following list of equipment is made up of four sections: equipment for light microscopy, for electron microscopy, for biochemistry and molecular biology, and for cell culture and analysis.
In addition to routine stereo- and light microscopes, the institute maintains high-end fluorescence microscope systems that allow high-resolution and high-speed observation of live and/or fixed samples. These are listed below.
FLUORESCENCE SPINNING DISK MICROSCOPE
Olympus IX81 equipped with a Yokogawa spinning disk, an iXon Ultra Andor EM-CCD Camera, a FRAPPA module, an APZ-X00 xy scanning and piezo-Z stage, an OKO-LAB live cell observation chamber and 4 laser lines (405nm, 488nm, 561nm, 640nm).
FLUORESCENCE CONFOCAL MICROSCOPE
Leica TCS SP5 Confocal Microscope for acquisition of optical sections and very fast 3D imaging of living cells using five detection channels.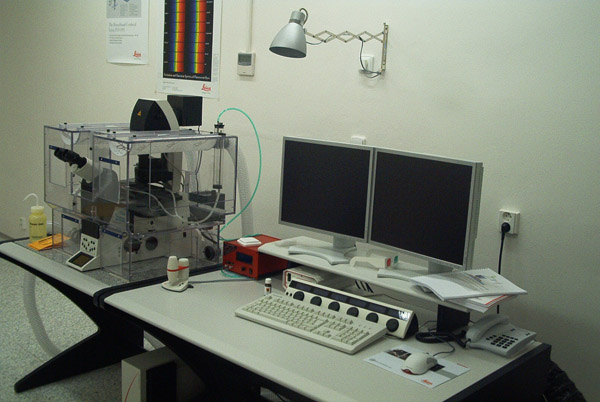 WIDE-FIELD 4D INVERTED FLUORESCENCE MICROSCOPE
Olympus IX71 equipped with an Andor Clara CCD camera, a Heliophor pumped phosphor light engine (89 North Inc.) for low phototoxicity, a piezo-Z stage and a live cell observation adapter. The microscope is controlled through the Andor iQ software.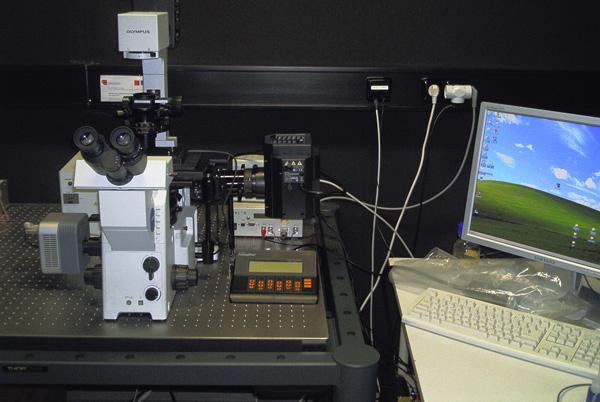 PROGRAMMABLE ARRAY MICROSCOPE
Olympus IX71 set up for structured illumination microscopy with an LCOS programmable illumination array. This system is equipped with one EM-CCD Andor 885 camera and one low-noise sCMOS Andor Neo camera. To achieve maximal speed and sensitivity, high-power light-emitting diodes (LED) are used as the light source.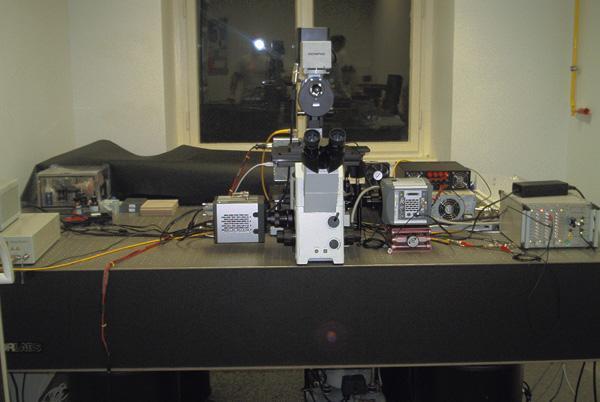 FLUORESCENCE STEREOMICROSCOPE
Olympus SZX10 equipped with 1X and 2X objectives allowing magnification of up to 120X. Also equipped with a mercury lamp and the filters necessary to observe either green or red fluorescent proteins.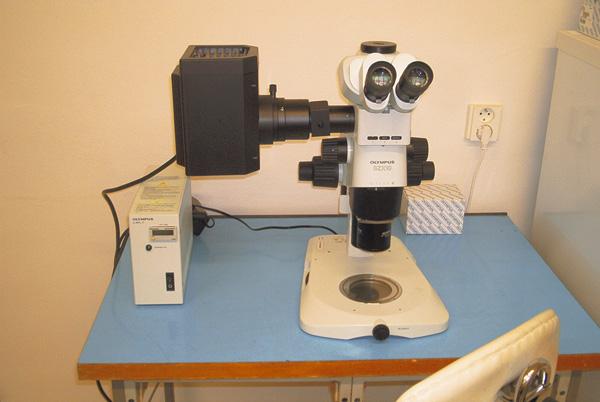 UPRIGHT FLUORESCENCE MICROSCOPE
Olympus Provis AX 70 equipped with a highly sensitive CCD camera for the detection of weak fluorescent signals.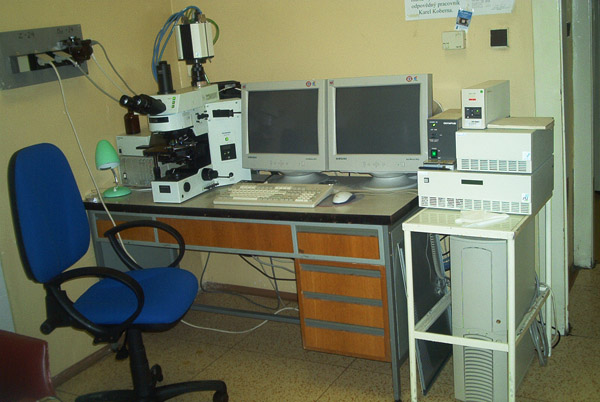 MICROINJECTION SYSTEM
Zeiss Axiovert 200 with an Eppendorf microinjection system enabling rapid delivery of macromolecules and other substances into living cells. The microscope is equipped with a CO2 box for in vivo observation of the injected cells.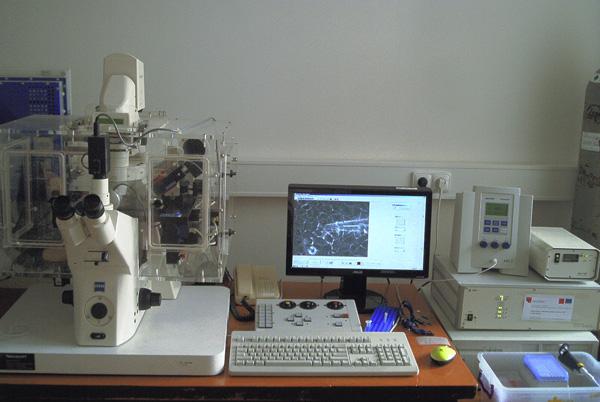 ELECTRON MICROSCOPY
The institute is particularly well-equipped to prepare samples for electron microscopy, with a plunge freezer for thin vitrified layer technique (EMS), a Leica EM PACT2 high pressure freezer coupled to a Rapid Transfer System EM RTS which allows preparation of vitreous specimens of up to 200 µm in thickness, two Leica AFS2 systems for freeze substitution and progressive lowering of temperature (PLT) embedding, ultramicrotomes and cryoultramicrotomes (Ultracut E, S and Leica EM UC7), and an electron beam metal evaporator (Bal-Tec). The institute has 2 routine transmission electron microscopes and 1 high-performance transmission electron microscope for cryo-electron microscopy and tomography. These are listed below.
Tecnai G2 Sphera 20 Electron Tomography Microscope LaB6 emitter. The microscope is equipped with a Gatan USC 1000 (Model 894) 4 megapixel slow scan CCD camera, a cryo-box and tomographic specimen stage. The Gatan 626 cryo-holder and the Gatan 914 high tilt cryo transfer tomography holder allow observation and tomographic acquisition of vitreous specimens.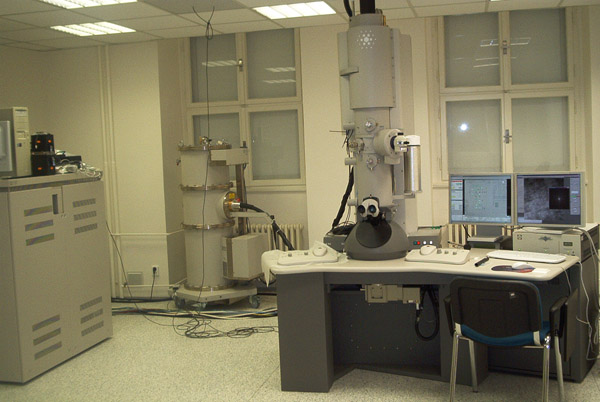 Zeiss 902 Electron Microscope equipped with a bottom-mounted CCD camera.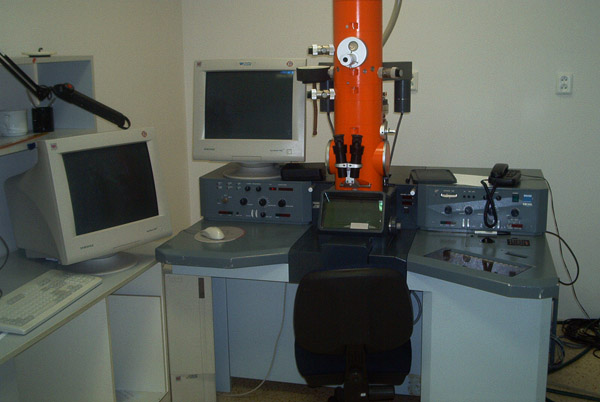 Transmission Electron Microscope FEI Morgagni. A routine microscope equipped with a side-entry CCD camera MegaView III and iTEM imaging software.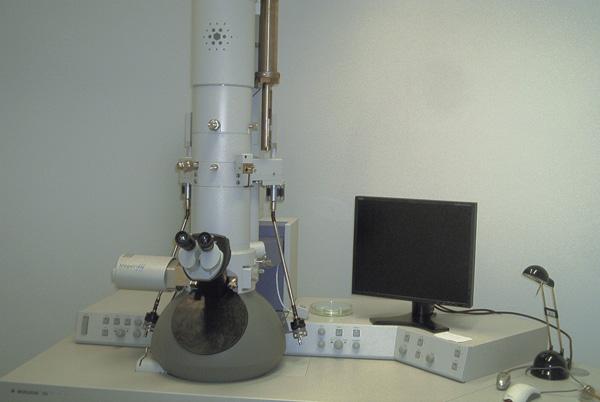 BIOCHEMISTRY AND MOLECULAR BIOLOGY
The institute is well equipped to perform biochemistry and molecular biology work. In addition to deep freezers and refrigerated centrifuges, instruments include the following chromatography systems: ELFO (Bio-Rad), HPLC system (Perkin Elmer) and FPLC (Pharmacia-Amersham). A CFX-96 Real Time PCR System attached to a C1000 Thermal Cycler (Bio-Rad) is used to perform quantitative PCR. A walk-in cold room is available to carry out experiments at 4ºC.
CELL CULTURE AND ANALYSIS
Researchers at the institute have access to 3 cell culture rooms. These are equipped with laminar flow hoods, CO2 incubators and phase-contrast microscopes. Also available are a BTX ECM600 Electroporation system and a CellLab Quanta analytical fluorescence cytometer (Beckman Coulter).